vReact - 3D | VR industrial training
About vReact - 3D | VR training​
Virtually the best industrial training​
vReact (former name: VTE – Virtual Training Environment) is a powerful 3D virtual training application, based on digital twin, dedicated to field operators of industrial plants, machinery, and equipment.
vReact is designed to increase safety and help personnel become more productive and proactive while delivering greater value to operations and help maximize return on investment.
With vReact, we will help you to transform your traditional training into virtual reality to be even more effective. vReact allows you to train everyday procedures as well as emergency situations in a risk-free, realistic and immersive 3D environment.
vReact training can be used with and without VR goggles. From our experience, we know that not all people like or can use VR headsets. For those, we give an option to experience vReact training on a standard computer using only a traditional mouse, keyboard, and a monitor.
vReact in-app sample screenshots​
AppsBow's vReact – 3D | VR training is strictly focused on the industrial market. It's designed for field operators, process operators, engineers, and trainees for daily procedures and tasks as well as emergency events training.
Besides training vReact has functionality for:
Logistics.
Development and services planning.
Audits: safety, OHS, and others. 
Dimensions measurements. 
New employee touring.
Fire department emergency operation planning.
Our 3D VR training system is already used by gas/oil, chemical, and manufacturing companies around the world.
Our portfolio contains over a dozen of entire industrial plants and pieces of machinery with operating and emergency procedures for field operators as well as operator training simulators.
We will be happy to share contacts with our current clients who use our solutions. Among them, you will find one of the biggest and most modern refineries in Europe, chemical factory and industrial machines manufacturers.
We can also share a demo of our vReact training with you. Just use the request form below.
Implementation of vReact is a real game-changer. Here you have the lists of benefits.
Problem
Risk of serious or fatal accidents,  environmental pollution and jeopardizing process safety.
---
Solution
Since we developed vReact specifically for the industrial sector we are quite aware that the most important thing on industrial plants and facilities is safety. It's value cannot be really expressed in any currency.
According to various studies 70 to 90% of accidents are caused by human error. In such a hazardous environment those errors can lead to the plant shut-down, environmental pollution or even fatalities. Historical examples of that kind of events are widely known.
With vReact, virtual training can finally be a part of the safety policy in each company, helping to reduce the risk to a minimum by developing the professional competence of the field personnel.
The footage below was recorded in the vReact application.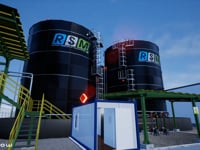 UAN Storage Facilities - Emergency event - leakage from the tank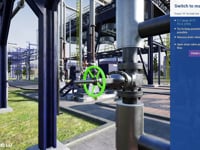 Gasoline hydrodesulfurization unit - switch to manual
Gasoline hydrodesulfurization unit - Start-up of debutanizer (OTS)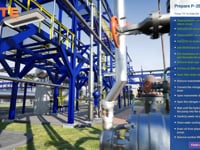 Gasoline hydrodesulfurization unit - preparing pump for service
Training for emergency events
Due to technological advancements, emergency events take place a lot less often. At the same time, they become more dangerous and less expected. vReact is a perfect solution to prepare your crew for unexpected, dangerous, and stressful situations.
Our learning system is divided into three or four stages – depends on the client's request, with or without Ai support.
vReact – 3D | VR training allows training in single-user mode and multi-user mode.
Multi-user cooperation is especially dedicated to procedures which require interaction of two or more persons to execute. It allows users to cooperate via the company's local network and via the internet – between people from different places in the world.
Cooperation mode also gives access to communication tools like text and voice chat, allowing users to speak to each other during the training. It is also possible to use virtual walkie-talkie for even more reality.
Multi-user training enables also the remote but active participation of a supervisor with overseeing and assistance functions.
Meet AL - virtual assistant with Ai support​
At the client's request, we provide a virtual training assistant AL (as a third step in the learning system). Independently from the learning stage during the training virtual assistant gathering knowledge from training sessions started by each user.
Our AI collect the data about the behavior of each person to determine the following:
The learning curve.
Possibility of making mistakes in the future.
Uncertainty factor for decision making.
Memorization coefficient.
And many others. 
Thanks to AI support our clients are able to make better business decisions and give more attention to personnel that requires more time for training. 
In the third stage of learning, AL responds directly to the actions of the user. If it spots hesitation in the decision process, mistakes, or slow reactions it will provide relevant and individualized assistance.
AI helps users with appropriate digital facial expressions and sounds.
OTS - DCS operator training​
With field operator training AppsBow's 3D VR system provides an OTS (operator training simulator). It also allows users to train DCS control systems for a process of industrial facilities.
OTS solutions improve asset safety by training operators and engineers on how to respond during quickly changing process conditions to reduce the risk of potential incidents. Well-trained employees react more quickly and counteract before incidents occur.
OTS is focusing on user interfaces and process models to provide hands-on experience to deliver high fidelity training content.
The main aim is to enhance the performance of any kind of plant assets like operators, procedures, and controls.
Streamed vReact training ​
The popularity of 3D virtual world training applications is growing and so is the demand to use it on any PC without the need for a specialised and expensive computers. Using the latest technology we are providing streaming service of our 3D VR training directly to your browser or even virtual reality headset.
The big advantage of this solution is that the streaming service does not require from our clients anything more than a mid-level PC with broadband and stable internet access and a web browser. Any kind of computer, including laptop, even tablet or smartphone will be able to run the training. wherever and whenever the need be, worldwide.
With our streaming service, we can beam the VR training directly to the VR headsets like Oculus Quest even without a PC and any other device. This gives another opportunity for lowering costs.
Everything in a fully controlled and secure cloud environment provided by our partners:
Google Cloud Platform.
Microsoft Azure Cloud.
Amazon Web Services.
On a special request, we can provide cloud streaming on any other platform.
For clients with restrictions for using the online cloud, we also provide an internal GPU-based server for streaming 3D VR training in the company's local network.
Administration and statistics​
Along with our 3D VR training, we provide a fully-fledged back-end system to manage the training and users/trainees.
The administration and statistic system is a web-based application with access via a web browser. Thanks to this you a supervisor can easily control access to virtual training via PC, tablet, or phone and see the full statistics of each trainee including:
Total time of training.
The number of training taken.
Positively completed training sessions.
Negatively finished or incomplete training.
The learning curve (time/progress).
And much more. If you wish to know more about our training management system please click the button below.
vReact training without VR goggles
3D VR training is basically a game-like system that can be run like any other software with a fully interactive environment on a computer. We give our users an option to choose in what way they want to access the training software: with or without a VR headset, without detriment to usability and basic functionality of the system, which further increases the accessibility and comfort.
Our 3D VR training system can be experienced with the use of a mouse and a keyboard, a standard monitor, or with a VR headset like Oculus, HTC Vice, and others.
Optimized to reduce costs​
Our training system is based on fully optimized digital twins. For this purpose we apply state-of-the-art technology similar to or even better than the one used in game development. In this way we reduce the cost of the necessary hardware required to run the application.
Thanks to our technology, we managed to greatly reduce the hardware requirements so even a mid-level PCs with following specification is still usable:
Minimal requirements without VR headset.
OS: Windows 10.
RAM: 8 GB or more.
HDD: 15 GB of free memory.
CPU: Intel i3 or similar AMD.
Intel HD Graphics 1536 MB / Nvidia GTX 960 / similar AMD.
Minimal requirements with VR headset.
OS: Windows 10.
RAM: 8 GB or more.
HDD: 15 GB of free memory.
CPU: Intel i3 or similar AMD.
Nvidia GTX 1080 / similar AMD.
Effectiveness based on reaserch
From the research of Professor Kazimierz T. Kosmowski (Gdansk University of Technology, Gdansk, Poland) we know that 70 to 90% of accidents on plants are caused by the human factor.
These results give us the basis to establish how important it is to properly train our employees in order to minimize the likelihood of them making both smaller as well as critical mistakes. 
Analyzing this topic in more detail, we can look at the data from HP Special Report – Clean Fuels, by T. Ayran and P. DE Jonge. It is noted that in the U.S. process plants lose over $ 20 billion a year because of abnormal situations. 8 billion $ (40%) of losses are caused directly by insufficient knowledge and employee errors.
Digitization of training is already a tested solution. We can give here as an example a digitized training for operators called Operator Training Simulators (OTS), which gives the following benefits:
Half of the incidents that were either caused by humans or made more severe by error will be eliminated. A quarter of the incidents that may have been made more severe by human error will be eliminated. The benefit for a refinery should, therefore, be calculated to be a reduction in plant downtime by 15%. But how does this apply to introduce virtual reality?
"People recall information better through virtual reality"
In the article from ScienceDaily titled "People recall information better through virtual reality" prepared on the basis of research carried out at the University of Maryland we can read:
"The researchers found that people remember information better if it is presented to them in a virtual environment. The results of the study were recently published in the journal Virtual Reality."
and also:
"(…) immersive environments could offer new pathways for improved outcomes in education and high-proficiency training"
Amitabh Varshney, professor of computer science and dean of the College of Computer, Mathematical, and Natural Sciences at UMD.
Similar theses are also confirmed by Charles E. Baukal, Jr. and Lynna J. Ausburn in the article "Verbal- visual preferences of working engineers" wherein the summary we can read:
"(…) instructional designs for continuing engineering education should be highly visual."
The effectiveness of training and shortening their time depend on many factors. However, based on many studies, we know that the introduction of virtual training in each case results in increasing the training effectiveness and reduction of costs connected with the training process itself, as well as with the consequences, as the risk factor is reduced.
Thanks to the virtual reality training system, we want to improve security in the workplace thanks to better and more adequately trained employees.
Due to the above, in 2014 we decided to constantly develop our training systems, which resulted in creating vReact.
Desktop application for Windows 10 or streaming access.
vReact Nest
Training distribution via cloud streaming or as a desktop app
vReact Emergency
Training in a crisis situations
vReact Oversee
Backend system with management & statistics
vReact Digital Twins
Virtual representation of a real-like object